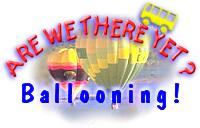 New York
Above the Clouds
PO Box 4816
Middletown, NY 10941
(845) 692-2556
www.abovethecloudsinc.com
The lower Hudson Valley offers some of the most beautiful vistas in the region, and Above the Clouds offers a birds-eye view from its two balloons -- one six-passenger and one three. All flights depart from Randall Airport in Middletown. Sunrise and pre-sunset flights are available. Middletown is about an hour north of the George Washington Bridge.
Adirondack Balloon Flights
P.O. Box 65
Glens Falls, NY 12801
(518) 793-6342
www.adkballoonflights.com
Take in the beautiful Adirondacks/Glens Falls/Saratoga area in state-of-the-art 4- to 8-passenger balloons. More than 3,000 passenger flights since 1973.
Airborne Adventures Ballooning, Inc.
6255 Haslauer Road
Munnsville, NY 13409
(315) 761-8201
www.flyairborne.com
Airborne Adventures offers Champagne Flights over beautiful Stockbridge Valley in Madison County, Central New York.
Ballooning Adventures offers mountain valley balloon rides over the scenic Lake George, Glens Falls and Saratoga areas in norther New York State.
Balloons Over Letchworth launches from the Upper-Middle Falls picnic area in Letchworth State Park, also known as the Grand Canyon of the East. This is about an hour south of Rochester. Has balloons that will accommodate up to 10 passengers. Also offers instruction and commercial services.
Blue Sky Balloons
99 Teller Avenue
Beacon, NY 12508
(888) 999-2461 • (845) 831-6917
www.blueskyballoons.com
With more than 35 years experience, former US Navy pilot Bill Hughes takes passengers on flights over the picturesque mid-Hudson Valley.
Britannia offers flights across the Hudson Valley.
Champagne Balloon Adventures flies in the spectacular 1000 Islands area and offers commercial services as well.
Enchanted flies over the Tri-State area, including the Hudson Valley and parts of New York, New Jersey and Pennsylvania.
Fantasy Balloon Flights, Inc.
3 Evergreen Lane
Port Jervis, New York 12771
(845) 856-7103
www.fantasyfliers.com
Fantasy is a husband/wife team that has been flying in the beautiful Hudson Valley area for more than 20 years. Flights are launched from Randall Airport in Middletown, New York.
High Hopes Balloon Company
62 Devonshire Circle
Penfield, NY 145263
(585) 377-7768
www.highhopesballoon.com
High Hopes flies over the beautiful Finger Lakes area of upstate New York.
Kay-Sara Ballooning
611 McDowell Avenue
Wellsville, NY 148952
(716) 560-5460
www.kaysaraballooning.com
Kay-Sara launches from Wellsville and Elmira, New York and St. Mary's, Pennsylvania for breathtaking Champagne Flights.
Sky Sail Balloons, Inc.
2805 Carpenter Pringle Rd.
Ashville NY 147103
(716) 326-7245 workdays • (716) 782-2280 evenings & weekends
www.skysail.org