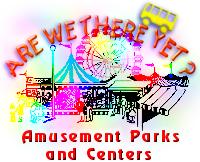 Park Listings In:
Our area is jam-packed with amusement parks, with everything from indoor "sport centers" to theme parks for toddlers, to small amusement parks with classic rides and giant parks with the latest high-tech, hair-raising adventures. The listings here give a brief description of each park, and provide phone numbers for further details.
As a rule the larger parks are not cheap, and visitors can expect to spend at least $50.00 per person for the day (with food, souvenirs, etc.), even at group rates. Still, it's a pretty good deal for a day of fun in the sun.
Families and groups might consider some of these places for birthday and other parties. Some parks offer special deals for parties.
Reservation requirements for groups are usually liberal In most cases the group leader can make the arrangements by phone a day or two ahead, and pays for the tickets upon arrival or with a credit card over the phone. Some parks, though, give a better deal when tickets are purchased through the mail.
Another group option is to purchase tickets through a bus company, which may act as an agent for amusement parks and offer the best overall deal when tickets are purchased along with a bus rental.
Operating seasons vary but usually begin around mid-April and run through October or so. Check for pre-season days and special opening times for groups. Of course, the indoor facilities operate year-round.