Giggleberry Fair is a fun and exciting family-oriented entertainment venue for children of all ages. Located in Peddler's Village and the beautiful surroundings of historic Bucks County PA, the indoor facility houses a large restored 1922 Carousel, a Game Room, Giggleberry Mountain, and lots of tasty food and treats at the Painted Pony Café.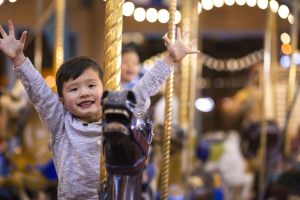 The Grand Carousel consists of 46 hand-carved wood figures that include horses and other animals, 36 scenery panels, 950 clear lights of glittering illumination, and tin vaulted ceilings with a 24-foot-tall brass center pole. At least eight horses have REAL horse hair tails, delicate manes, and all are highlighted by as many as 50 inlaid glass jewels in their beautiful trappings. A carousal ride is to be treasured as a valued memory to Giggleberry Fair.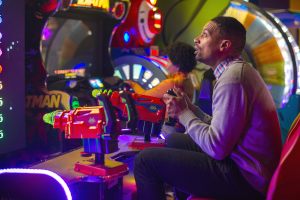 The Game Room features more than 40 of the newest arcade games on the market as well as old-fashioned favorites such as Skee Ball. Giggles Discovers is an adventure into exploration for toddlers and preschool children, where children can explore an authentic wooden fire truck, ring a fire bell, wear fire hats and jackets, and engage in exciting fire safety activities. Children can stretch their imaginations and create make-believe puppets at the Puppet Stage while The Waterway provides interactive water fun with fishing, canals, fountains and spouts.
Giggleberry Mountain is a challenging experience for both children and adults, featuring a colorful three-story, six-level obstacle course and maze that deliver hours of family fun. Thousands of foam berries fill the 60-by-30-foot building, with berry blasters and explosions delivering unending entertainment. Coiling down three stories is a custom-designed, enclosed slide, as well as a side-by-side racing slide. Giggleberry Mountain is available for children ages 12 and under; those six and under must be accompanied by a paying adult.
The Painted Pony Café located in Giggleberry Fair, offers a fun and delicious menu for the entire family, serving pizza, hot dogs, chicken tenders, burgers, wraps, salads, ice cream, and a variety of other kid- and adult-friendly foods and snacks. Adults can now enjoy beer and wine at the Painted Pony Café.