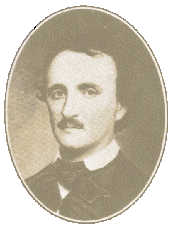 Born in Boston in 1809, Edgar Poe was destined to lead a rather somber and brief life, most of it a struggle against poverty. His mother died when Edgar was only two, his father already long disappeared. He was raised as a foster child in Virginia by Frances Allen and her husband John, a Richmond tobacco merchant.
Poe later lived in Baltimore with his aunt, Maria Clemm and her daughter Virginia, whom he eventually married. The trio formed a household which moved to New York and then to Philadelphia, where they lived for about six years -- apparently the happiest, most productive years of his life. Of Poe's several Philadelphia homes, only this one survives.
In 1844 they moved to New York, where Poe briefly owned his own journal. Tuberculosis took Virginia's life in 1847, drawing it from her slowly after the fashion of this cruel affliction. Poe's subsequent decline was as tragic as it was rapid. In 1849 Edgar Allen Poe died in delirium of "acute congestion of the brain."
There is a very bright side to Poe's life, however, that the rest of us have enjoyed, if not the man himself. His prose and poetry have forever changed the course of storytelling, setting standards that many authors have striven to meet and still do. Poe is widely recognized as the inventor of the modern mystery with his "Murders in the Rue Morgue" (written in Philadelphia). Here detective Cesar A. Dupin solved crimes through a process of rational thinking Poe called ratiocination. Dupin was the predecessor of Arthur Conan Doyle's Sherlock Holmes and Agatha Christie's Hercule Poirot.
Edgar Allen Poe is probably most famous for his macabre tales such as "The Raven", "The Tell-Tale Heart" and "The Fall of the House of Usher" (the latter two written in Philadelphia, along with other famous stories and poems).
Operated by the National Park Service, this historic site consists of three buildings and a park area. Visitors can enjoy a number of great exhibits on Poe's life, including an audio-visual presentation, as well as a tour of the house, though it is not furnished. Poe's own furnishings disappeared without a trace, a fact which may be viewed with some irony. Thus, with no evidence as to the original furnishings, the house remains bare today.
School Groups can participate in a Guided Tour (1 hour) or one of a series of great 90-minute interactive Programs. The series is titled The Four Faces of Poe and its segments include Poe: The Poet, Poe: The Great American Writer, Poe in Philadelphia, and Poe: How We Know What We know. Maximum class size is 25.