In 1906 local industrialist General Harry C. Trexler founded a game preserve to help secure a future for rapidly declining herds of big game such as bison and elk. General Trexler bequethed the preserve to the County of Lehigh, and when the county assumed ownership in 1935, the 1200-acre Game Preserve was home to 98 bison, 78 wapiti elk, and 269 Virginia deer.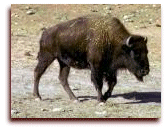 The Trexler-Lehigh Game Preserve operated as an informal petting zoo, open only on Sundays, for 40 years. When construction began on a 25-acre Children's Zoo in 1974, things began to change. Exotic animals were brought in from Africa, Asia, and Australia, the Preserve increased its operating schedule. Major changes occurred again 20 years later.
Since 1994 the Game Preserve has been engaged in a vigorous expansion program resulting in a 31% increase in visitors, and continuing improvements include enhanced visitor experience and better animal habitats.
Today visitors can see a wide variety of animals, including camels, emu, llama, zebras, bobcats, Arctic wolves, ostrich, penguins, whitetail deer, prairie dogs, river otter, kangaroos, raptors, and many others.
The 25-acre Petting Farm remains a favorite of children of all ages, and other special features of the Preserve include a Nature Study Building and an Educational Amphitheatre.
The Preserve also offers a nice selection of Educational Programs for families and school groups, including Outreach Programs that bring a bit of the Game Preserve to school. Teachers can sign out "suitcases" of material to help prepare their students for a visit to the Preserve in Environmental Theme Days, a program that presents a different theme each day of the week. Feeding Time at the Zoo is another favorite for children and adults of all ages, with each feeding including interesting stories and facts about the animals at the Preserve. Call for days and times.
Additional programs may be offered seasonally. Call the Preserve for details, or visit their official website, linked above.