One of the few aquariums in the country to focus on one body of water -- Long Island Sound -- the Maritime Aquarium at Norwalk offers a whole day's fun and adventure for individuals and families, as well as great educational programs for students from Kindergarten through grade 12. Twenty habitats contain over 1,000 marine animals representing more than 125 species. Different tanks represent successive levels of life in Long Island Sound, from oysters, sea horses and small fish to nine-foot sharks, bluefish, striped bass, rays and other creatures found in the Sound and the Atlantic Ocean.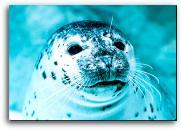 Harbor Seals reside in a special indoor-outdoor tank in Falconer Hall. A favorite attraction at the Aquarium, the seals bring smiles to the faces of anyone who watches them cavorting about. And the favorite times for the seals are when they get fed -- 11:45 am and 1:45 and 3:45 pm, every day.
A variety of jellyfish can be closely and safely observed in the Jellyfish Encounter area. The Touch Tank houses sea stars, crabs, and other tidal creatures that kids can safely handle with the help of trained assistants. And the River Otter Habitat is always a favorite.
The two-story Maritime Hall contains an active boat-building shop and an authentic oyster house and features interactive exhibits on sailing, navigation, weather conditions and boat design, as well as a series of hands-on displays that explain what makes a fish a fish. Visitors can pet a harmless species of rays at the Ray Touch Pool.
Ocean Playspace, on the second floor of Maritime Hall, offers young children an early introduction to the animals of the Aquarium and Long Island Sound. Interactive elements here promote motor skills, imagination, interactive play, coordination, balance, sensory awareness, and more.
Changing exhibits focus on various aspects of the sea and its inhabitants, giving visitors something new to enjoy with every visit. Call the information number above or visit the Aquarium's official website for a current calendar.
Individuals and Groups can take an exciting educational Ecology Cruise cruise aboard one of the Aquariums's 31-passenger research vessel, R/V Oceanic. Cruises last two to three hours and focus on Marine Life, River Ecology, or Winter Waterfowl and Seals.
Popular with people of all ages, the IMAX Theater seats 337 people before a 6-story high screen and presents specially made films. Titles have included "Destiny in Space," with rare Space Shuttle and Hubble Telescope footage, and "Flight of the Aquanaut," a dramatic exploration of the ocean. Features may change two or three times per year. A nice touch for a group is that they can arrange (in advance) to view any of the films in the Aquarium's library. Shows run at regular intervals during Aquarium hours and during special hours on Friday and Saturday evenings.
For School Groups, the Aquarium offers a generous menu of unique programs in environmental education and marine science. Programs are subject to change, and while some of the following examples may no longer be offered, they give an idea of the type of content available:
IBIS, a True Whale Story (grades pre-K - 2): the story of the first whale ever to be rescued from a fishing net; includes activities to help students learn about whales and the problem of marine debris
Wonders of Wetlands (3 - 5): uses videos, activities and experiences with live animals to teach about this important environment
S.O.S. -- Save Our Sharks (6 & up): "If the bodies of all sharks killed every year were . . . placed nose to tail, [they] would encircle the earth five times." A startling fact. Explore the reasons why sharks are hunted, and what we can do to encourage conservation.
Traditional Boat Building (4 & up): teaches about the materials, tools and design processes used to create wooden boats
Dock Station (6 & up): students participate in field work to collect specimens and analyze the physical properties of water.
Programs last 45 minutes and can accommodate up to 28 students. One chaperone is required for every seven students.
Dozens of other programs cover a wide variety of subjects important to the survival of the species (our species!). A number of great Outreach Programs are also available to schools within 50 miles (farther for additional fee). Special Teacher Workshops help keep educators up to date, and teachers get a 10% discount on all resource materials in the gift shop!