The watch that takes a licking and keeps on ticking® has a great new showplace in Waterbury. Housed in a beautifully renovated brass mill building -- itself an historic landmark -- TIMEXPO Museum opened its doors to the public in May of 2001. Three floors of exhibits explore the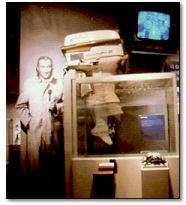 fascinating heritage of world-famous Timex®, tracing its roots to the early days of the Waterbury Clock Company.
Visitors can witness the birth and growth of Timex®, enjoy demonstrations of the inner workings of clocks and watches, marvel at some of those ingenious marketing campaigns (such as the Timex® watch strapped to the submerged propeller of an outboard motor), and much more. A variety of hands-on exhibits, craft activities, and computer interactives delivers education in a fun and engaging way to people of all ages.
A few examples include:
The Timepiece and Memorabilia Collection
The museum owns a vast collection of magnificent timepieces and related items. Many of them are on display for all to see.
Restoration
On scheduled days craftsmen demonstrate timepiece restoration and show how clocks and watches work.
Exploration
The mysteries of Easter Island and the ancient world come to life through a series of fascinating exhibits, including the Watertable -- an interactive model of the Pacific Ocean that lets visitors experiment with ocean currents.

TIMEXPO is not only a great museum, but a valuable educational resource for families and groups as well. A calendar of events offers entertaining cultural activities throughout the year, from wine tastings to classic video presentations, and school groups will find a trip to this museum to be very rewarding.
The Museum Shop features a nice selection of watches available for purchase.
Groups can also rent a well-equipped 950 square-foot room at the museum for their own events and presentations. Prices are very reasonable; call for rates.
Call for information about current events and special programs, or visit TIMEXPO's official website.
Photos courtesy of TIMEXPO.